Welcome to Midnight Run Vizslas
---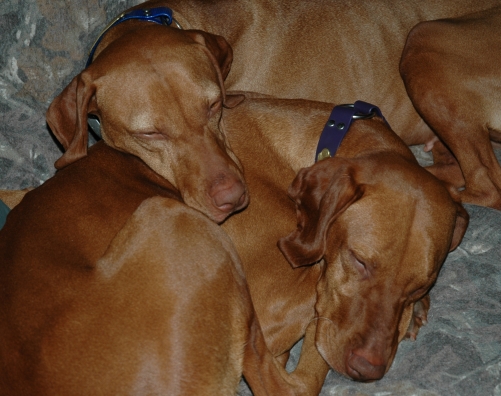 Midnight Run Vizslas specializes in Vizsla puppies for the discriminating pet owner, upland bird hunter & field competitor. Located in Southwestern Michigan, we are the area's premier Vizsla breeder, dedicated to producing attractive, healthy, and well-tempered pups that are as much a joy to live with in the house as they are to hunt over afield. Our Vizslas are proven field performers with excellent temperaments and easy-going dispositions that make them wonderful companions in the home. Whether you're looking for a great pet, a productive hunting companion or a successful field competitor, we have the pup for you.
NOVEMBER 2015:

We have pupppies available!

We have pups on the ground that will be ready to go home at the end of December. We still have a few available, so feel free to contact me by email or phone for more information if interested. These pups will be wonderful companions in the home and field alike, so whether you're looking for a great pet or a hunting companion, we have what you're looking for.

Adult Female Vizsla Available to Approved Home



We also have a wonderful 3 year old adult female Vizsla named Kita available to a very special home. She is even tempered, loving and sweet, with a great personality and pedigree to match. She is a Rio daughter and full sister to my young stud dog, Sonny. Her future home must have a nicely sized fenced in yard and no young children. She gets along with children, but has not lived with any young children for an extended period of time. She is healthy, up to date on vaccinations, crate trained, potty trained, knows basic obedience and is as sweet as can be. She was spayed once she was fully developed at age 2. She also gets along well with other dogs, but she likes a lot of attention and isn't afraid to take it. She could make a single dog jealous. She REALLY loves to cuddled on the couch. She is on the submissive side and is considerably laid back in the home. If you think you're the right home for her, please contact me directly, by email or phone, for additional info

. We are being highly selective regarding her placement due to the circumstances of her return.

DRIVER WINS THE 2015 VCA NATIONAL FIELD CHAMPIONSHIP!!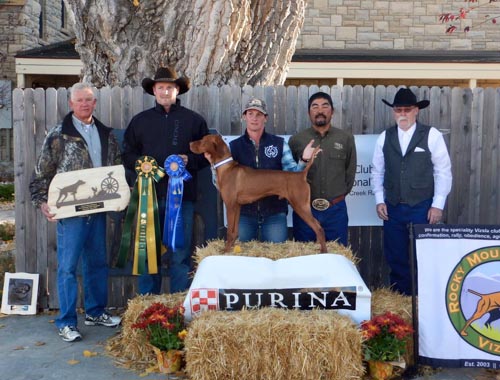 October 24, 2015: Big News!!! Driver (Mira's MR Playmaker) won the Vizsla Club of America's National Field Championship! In doing so, he also finished his Field Championship title in grand fashion. Driver is Midnight Run bred and out of our Nena (Shiloh's Midnight Run) by Rex (Burr Oak's Quarterback). And he's only 3 years old! He is owned by my friend and fellow Vizsla breeder, Michel Berner, and is trained and handled by Brian Gingrich. This big win (there were 42 starters) capped off an already great fall of compeititon for Driver. Driver is Midnight Run's first bred VCA National Champion, our second National Champion overall and our fourth Field Champion in the last 12 months.

I am also proud of Nena. In addition to Driver's VCA National Field Championship, she also produced the NVA's 2013 National Field Champion, Gabi (Midnight Run's Gabi), by Cisco (MVSDC FC AFC Si Cisco JH). Producing two National Champions by two different sires is quite a feat and I'm not aware of any other bitch in breed history to produce a VCA NFC and NVA NFC from two different litters/sires.

I am also proud to announce that another Midnight Run bred dog, Case (A CaseXX for JT Becker) also took 4th place in this year's VCA National Championship. Case is out of Cisco x Mae and is owned and loved by David and Marie Knight, and trained and handled by Jamie Fountain. A lot of hard work goes into raising the few select litters that we do in our living room and it is rewarding to see Midnight Run bred pups collect half of the placemenets at this year's National Championship, including the win. I'm so fortunate to have great field trialing puppy owners who have given pups that I have bred every opportunity to succeed in competition.



---